Auto Body Collision proudly offers Paintless Dent Repair (also known as Paintless Dent Removal, or PDR).  It's a great alternative to the traditional way of removing dents, which involves sandpaper and adding body filler or paint to try to match the existing color.  PDR has lots of advantages, not the least of which is saving time and money.  Among its advantages are:
Savings in time and money – often repairs are complete in just one day
Insurance approves it
It's the best way to retain your vehicle's original finish
Doesn't require repainting or body filler
No risk of overspray
The repair is virtually undetectable
It can dramatically improve the resale value of your car
PDR, however, is a skill and an art.  Fortunately, we have a team of trained dent-removal specialists in PDR for your vehicle.  The process requires specialized tools for applying pressure to the backside of the panel.  This removes surface imperfections.  We also can repair dents and dings by bonding a "tab" or other device to the panel's exterior, allowing the dent to be pulled from the topside.
The most common dents fixed are the size of a golf ball and under. About 95% of minor dents can be repaired, leaving about 5% of minor dents that can't be fixed due to depth or location. Areas such as some quarter panel opening lips, some forward areas of heavily braced hoods, or the very edges of some panels are examples of bad locations.
We'll assess your car's dents, inspecting the size, location and severity of the damage.  If we determine that the dents are reparable with PDR, we'll give you a written estimate.  Often dents and dings even as large as the size of a football can be removed with our PDR process.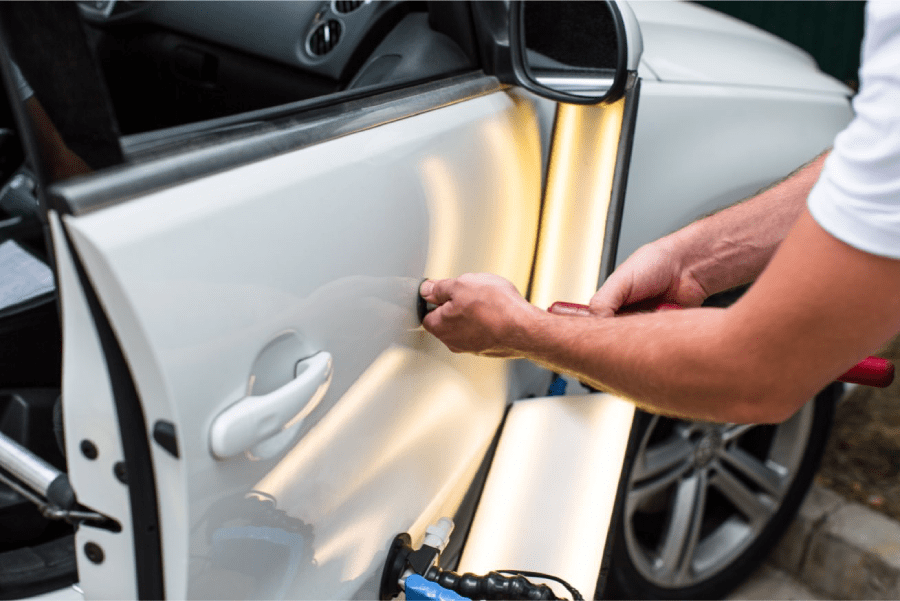 What You Should Know About Paintless Dent Repair:
Paintless Dent Repair (PDR) is less expensive than conventional auto body repair. PDR maintains the original finish and is virtually undetectable so it helps maintain the re-sell value of your vehicle.
Experts agree that a damaged finish lowers the value and appearance of your car. Vehicles with high gloss finishes can sell for more than $1,000 over vehicles with surface wear and tear. In fact, NADA Guides has a service that will show you the difference in your cars current value ranking.
Sometimes conventional auto body repairs just are not necessary. Hail, damage, door dings, and small dents can often be repaired using PDR at a lower cost. If you want to restore the appearance of your vehicle and improve its value then Paintless Dent Repairs may be the best option for you. Contact Auto Group Collision Today to schedule your FREE PAINTLESS DENT REPAIR ESTIMATE!
BROOKLYN'S TRUSTED
COLLISION

REPAIR EXPERTS

Simply Fill Out The Form on the Right to Request a Free Estimate! Our Team Of Top Auto Body Technicians Are Here To Help!
Call: (718) 449-4616